Online Auction 29th Annual Fundraiser
Click here or Scan the QR Code below with a smart phone to Register and purchase Gold Tickets, $100 each On Sale now. There is no limit on the number of tickets that may be purchased but only 100 tickets will be sold. The QR Code or link will go directly to The Friends Foundation Online Auction Fundraiser website. Gold Ticket Sales End Tuesday, October 11 at 6 p.m. (or when ticket sales reach 100 tickets sold). The Gold Ticket winner in the electronic drawing will have their pick of (one) item from our Feature Items list found on the Auction Site. The remaining Feature Items and all auction items will be available to Bid on when the Auction Opens on Thursday, October 13 at 10 a.m. The Online Auction Closes and all bidding ends on Saturday, October 22 at 8 p.m.

                                                                                                                                                                               Fundraising is essential to meet the increased demand for our services, such as Our Daily Bread™ our meal delivery program; Lifeline medic alert devices; Financial Assistance and other programs. We count on local individuals, businesses and the community at large to help as our aging population grows and we continue our Mission to improve the quality of life for seniors in the Greater Dripping Springs Area.
Questions? Contact us at info@thefriendsfoundation.org or call us at 512 592 1345 for more information. Click here to visit the 2021 Auction Website, see a list of our Supporters and Donors and see All Auction Items, including Feature Items, and the Sold price for each.
We appreciate your support in helping us continue "Doing good deeds to meet the elderly's needs."™ We are proud to be a 501(c)(3) all volunteer organization. 100% of all monies raised from the Online Auction, and all donations, are used to support our programs and services. Our DONATE BUTTON is ready and waiting for you to help. Please don't hesitate to make a much needed one time or monthly donation. We also welcome your questions, comments or feedback at info@thefriendsfoundation.org or call us (512) 592 1345.
Our Daily Bread™ Proudly, Our Flagship Program
Our Daily Bread™ is one of several programs and services we provide and is The Friends Foundation's flagship program. With the community's support and our volunteers we have delivered over 60,000 meals since the program began. Please visit our services page to learn more about our programs and services.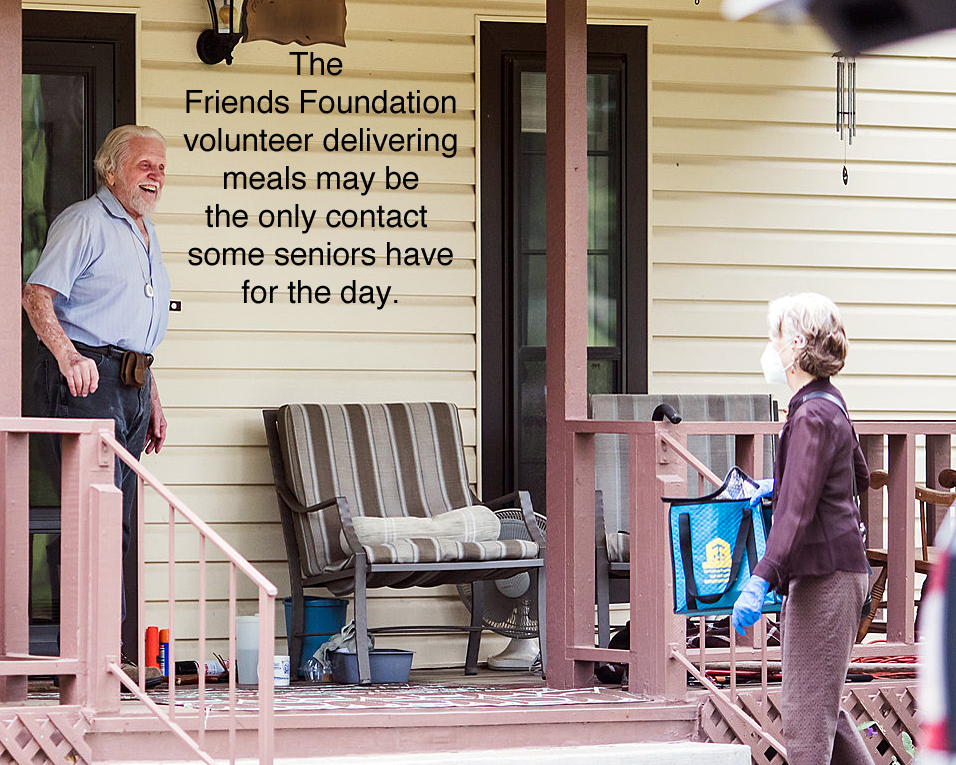 Our Beginnings
In 2004, a small group of community volunteers got together with the idea of helping the elderly of Dripping Springs, with a focus of keeping them living independently at home. The Friends Foundation came to life in March 2004. Several years later, with the help of our members, supporters, volunteers and the community, we now have many outstanding programs which take care of our valuable senior citizens. Our Daily Bread is The Friends Foundation's flagship program. We hope this website provides you with a wealth of resources and information to serve your needs. Should you need additional information, please feel free to contact us online.
The Friends Foundation is proud that all money raised is used to benefit the elderly in our community. Board members and volunteers receive no salary or other compensation and we have very little overhead. Many expenses are funded by donations or provided at a reduced rate. Those expenses which are not donated are limited to those which directly benefit our fundraising. All proceeds from any monies raised or donated to our organization are used to benefit The Friends Foundation's goals and purpose in accordance with its by-laws.